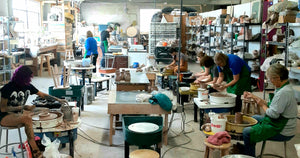 Beginning and Intermediate Clay Classes
Mighty Mud offers 6-week long instructor-led clay classes focusing on wheel throwing, hand building, and sculpture. Classes are three hours in length for 6-weeks and students have access to the studio during our open-studio hours for 8 weeks total (6 weeks of class plus 2 weeks at the end). New and returning students receive a 25lb bag of clay as well as a shelf to store their tools, clay, and works in progress for the length of class. New students additionally receive a tool kit (and a bat if you are in a wheel throwing class). 6-week classes are perfect for beginner and experienced students alike.
All refund requests for classes and events must be submitted at least one week prior to the event or class in question. No refunds will be made after this time period, with the exception of true emergency situations.  If you miss a class or an event, we are unable to reschedule your ticket. You must purchase a new ticket for any future events and classes.  Contact classes@mightymud.com to submit your refund request.
Classes